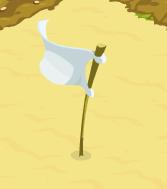 This flag is available for 500 c in the shop. When bought, it gives 5 xp. Its description reads "Cease fire! Cease fire!". A reference to the fact the white flag is often hoisted as a sign of surrender.
Some players have taken to using this flag as a sign of "Do not steal". However, this is not recognized by all players and will not directly protect their island.
Ad blocker interference detected!
Wikia is a free-to-use site that makes money from advertising. We have a modified experience for viewers using ad blockers

Wikia is not accessible if you've made further modifications. Remove the custom ad blocker rule(s) and the page will load as expected.