There are different types of weather players can spot in the game. These are all random effects.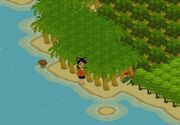 Rain can randomly appear while you are on your own island or visitng a neighbor's. Your screen will darken and you will notice small droplets falling. The effect can cause the game to lag, and you can reload the game to make it go away. If you continue to visit neighbor's islands, the falling droplets may disappear but the screen will remain dark. If you try to take a photo using the photo option, it will take the photo as though there was no rain and no darkened screen.
Purchase of the Rainy Day Umbrella allows players to have constant rain on their island.
Snow was added to the game for the Advent Calendar 2009 event and removed on December 28th. The option to buy the snow back was added as well with the creation of the Magic Snowglobe.
Types of Snow
Edit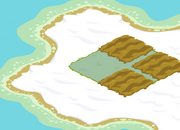 There are two types of snow on Island Paradise. The layer that covers all the sand on the island and changes the grass from green to teal blue, and the random falling snow effect.
Removing the Snow
Edit
Snow on ground
Edit
Players can remove the layer of snow by pressing Shift-S.
Be sure that you are not in fullscreen mode and have clicked inside the game window and not the white space around it. Also, make sure you are pressing shift and not ctrl.
Falling snow
Edit
The falling snow effect may cause some lag. Simply refresh the game window and it will go away.
You can also toggle the quality and change it to low to make the snow go away, although changing back will cause it to fall again.
Ad blocker interference detected!
Wikia is a free-to-use site that makes money from advertising. We have a modified experience for viewers using ad blockers

Wikia is not accessible if you've made further modifications. Remove the custom ad blocker rule(s) and the page will load as expected.