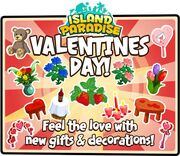 This event started on February 2, 2010. It included the release of the 6 hour crop Strawberries and numerous Limited Edition items. Valentine's Day occurs on February 14, which happens to be the same day as the Chinese New Year on the Gregorian calendar.
This is a list of the limited edition decorative items.
There were items released as well that could only be obtained through gifts.
A red t-shirt with a white heart (purchased for 1750 c)
A black t-shirt with a grey heart (purchased for 100 MC)
White shorts with red hearts (purchased for 1250 c)
A red heart beauty mark (purchased for 1250 c)
The Flower Vase and Pink Roses was spotted on our Sneak Preview page before its release.
Ad blocker interference detected!
Wikia is a free-to-use site that makes money from advertising. We have a modified experience for viewers using ad blockers

Wikia is not accessible if you've made further modifications. Remove the custom ad blocker rule(s) and the page will load as expected.