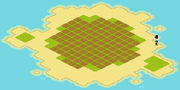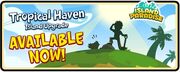 Tropical Haven was added to Island Upgrades menu in early December 2009, described as 'Coming Soon'. It became available for purchase December 22nd, 2009.
The amount of plowed land available increased from 98 plots in the previous upgrade, Sandy Atoll, to 126, giving an additional 28 plots of land, larger than all preceding upgrades, but not the ones that follow.
The cost of this expansion is 35,000 coins, changed from the potential price tag of 10,000 coins before its release and a level requirement of level 15. Alternatively, this expansion may also be purchased for 400 Meteor Credits with no level requirements.
On Tropical Haven, a player can use five active cooking pots and five fishing whirlpools. If the player has purchased any Tiki Tool and therefore has a Tiki Power bar, the maximum number of tiki points they can have is 246.
With the creation of this Island Upgrade, neighbor requirements for upgrading were abolished on all preceding upgrades and all future upgrades.
Number of Expansions
Edit
Note: In addition to your main island currently you can have only eight expansions. Also in order to travel to your other islands(or your neighbor's) you must click the Ship icon. The ship icon is located at the bottom of your screen to the far right.
Ad blocker interference detected!
Wikia is a free-to-use site that makes money from advertising. We have a modified experience for viewers using ad blockers

Wikia is not accessible if you've made further modifications. Remove the custom ad blocker rule(s) and the page will load as expected.