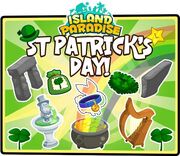 This event started on March 4th, 2010. Numerous Limited Edition items and the Clover flower were released. St. Patrick's day occurs on March 17th. The
Lost Rabbit
event was also released at this time, but it is not an event limited to only this time frame and will continue to be available even after St. Patrick's Day is over.
Leprechaun Shirt(purchased for 1000 c)
Leprechaun Skirt(purchased for 750 c)
Leprechaun Hat(purchased for 550 c)
Ad blocker interference detected!
Wikia is a free-to-use site that makes money from advertising. We have a modified experience for viewers using ad blockers

Wikia is not accessible if you've made further modifications. Remove the custom ad blocker rule(s) and the page will load as expected.