Snake



Level

Any

Harvest Time

None

Purchase Cost

None

Average Harvest Value

None

Purchase Experience

None

Harvest Experience

None

Giftable

No

Type

Random appearance

Animal Limit

Does not count
This randomly appearing animal is sometimes mistaken for a green worm because of its extremely small size. Its existence was confirmed on December 7, 2009 when one of the developers (Echo) posted that she believed in it now, although there had been numerous reports of sightings beforehand.
It will randomly appear on players' islands. Hovering over the snake will make the large white harvest hand to appear over it. If it is upon the player's own island and they click upon the Snake, it will disappear in a puff of smoke and a small poofing sound. If you try to "sell" it with the Delete Tool it will "sell" for 0c. If it is upon a neighbor's island, clicking upon it will cause nothing to occur.
The snake gives neither xp, coins, or any other kind of benefits. It will not eat your crops, animals, trees or otherwise harm your island. Any perceived benefits or harms from seeing or grabbing the snake is probably due to players having done something just prior to seeing or grabbing the snake and not realizing the change in their coins, experience or other items.
Duplicating
Edit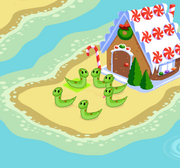 By using the move tool, the snake can be temporarily captured on your island. When placed, it stops moving and after a while a new snake appears within the planting area. It can't be put in storage. All snakes disappear after leaving the island either by visiting a neighbor or reloading the game.
Taking photos of the snake is possible using the in game photo function, unlike the random weather effects.