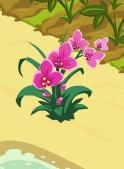 These flowers are available to players when they get to level 16. They take 1 day to fully grow and cost 2,500c to plant and give 25 xp. Their shop description reads "what a pretty looking flower!"

Orchids appeared on the Mother's Day offer banner above the game starting on April 29, 2010.
Ad blocker interference detected!
Wikia is a free-to-use site that makes money from advertising. We have a modified experience for viewers using ad blockers

Wikia is not accessible if you've made further modifications. Remove the custom ad blocker rule(s) and the page will load as expected.