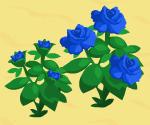 These roses were introduced during Valentine's 2010 and cost 1500 c and take a day to grow. They give 15xp when planted. They are unlocked in the shop at level 13 and their shop description reads "so rare you might never have seen one!'
Ad blocker interference detected!
Wikia is a free-to-use site that makes money from advertising. We have a modified experience for viewers using ad blockers

Wikia is not accessible if you've made further modifications. Remove the custom ad blocker rule(s) and the page will load as expected.