Pink Dolphin

'

Level

Any

Harvest Time

2 hours

Purchase Cost

Free

Average Harvest Value

50 c

Purchase Experience

None

Harvest Experience

1 xp

Giftable

No

Type

Shop Animal

Animal Limit

Counts
This animal was released for free through email to random players. The harvest is 2
Toothy Redtail
and the total harvest value is 50 c. It can be harvest every 2 hours and gives 1 xp when harvested.
Toothy Redtail is used in the following recipes:
Gallery of Pictures
Edit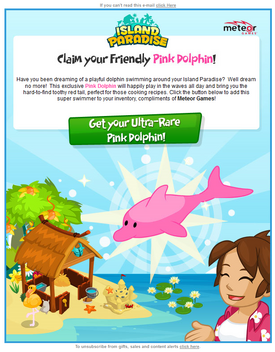 Ad blocker interference detected!
Wikia is a free-to-use site that makes money from advertising. We have a modified experience for viewers using ad blockers

Wikia is not accessible if you've made further modifications. Remove the custom ad blocker rule(s) and the page will load as expected.