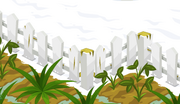 The fence that goes with the Picket Post, it costs 500 c to buy from the shop and gives 5 xp. Its description reads "Reminds you of home, sweet home."
When setting up this fence you can change how the fence appears to the viewer's perspective. If you want to change the appearance as being the "outside" of the fence, click repeatedly on the blue arrow box while in the move arrow mode.
By repeatedly clicking on the blue box you can shift the fence 90 degrees or by repeating the process several times you can turn it inside out or vice-versa. Thus it is possibile to line up your fence so that all the sections are facing the same way and present a nice even appearance.
Ad blocker interference detected!
Wikia is a free-to-use site that makes money from advertising. We have a modified experience for viewers using ad blockers

Wikia is not accessible if you've made further modifications. Remove the custom ad blocker rule(s) and the page will load as expected.