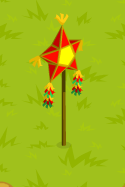 The Parol is a Limited Edition decorative item that was available from the shop during Advent Calendar 2009 and re-released for Advent Calendar 2010. This item was re-released from December 18, 2011-January 7, 2012. It could be purchased for 75,000 c, giving 750 xp. Its description in the shop read, "Lights up when you click it!"
The concept of parols come from the Philippines[1]. They are star-shaped Christmas lanterns.
When clicked, the Parol will light up red, yellow and green.
References
Edit
Ad blocker interference detected!
Wikia is a free-to-use site that makes money from advertising. We have a modified experience for viewers using ad blockers

Wikia is not accessible if you've made further modifications. Remove the custom ad blocker rule(s) and the page will load as expected.