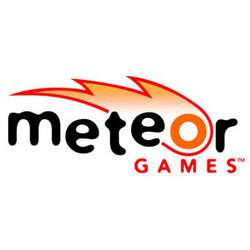 Meteor Games is the name of the company that created Island Paradise. The company was founded in 2007 by Adam and Donna Powell, who are also the creators of Neopets.com
[1]
. This company has created several games based on the Facebook platform, with Island Paradise as one of them.
Adam Powell
Edit
Adam Powell is the CEO and Creative Director of the company. On the Meteor Games forum, he goes by the name of "borovan", which seems fitting since it is common knowledge that one of his favorite food is borovan.
Donna Powell
Edit
Donna Powell is the President and COO (Chief Operating Officer) of the company, and manages the daily operations, marketing execution and overall business strategy for Meteor Games. She has two Facebook accounts that are registered as developers for the game. One that goes by the name of "Donna Powell", which appears to be her personal account, and "Meteor Donna", which seems to be a work account. Meteor Donna is thought to be Donna Powell, not just because the name is the same, but under "Position", it reads "President", the same as that on their official Meteor Games website. Donna Powell goes by the name of "daizy" on the Meteor Game forum, so it is presumed that the in-game flower Daisies, is a direct reference to her.
There is a variety of staff members that players have met. This is not a complete list, nor is every person with "Meteor" in their name a staff member. It is theorized that there is approximately 30 staff members on the Meteor Games Team, and they are still looking to expand. (If you are interested, their job postings may be found here on their official website.)
Meteor Donna (appears to be an account for Donna Powell, one of the two founders) - President
Meteor Echo - Community Manager
Auburn Tiger - head of Support team
Meteor Hiro - member of Support
Meteor Dave - member of Support
Meteor Panda - member of Support
Meteor Ollie (also known as Oliver Brodhage) - developer
Meteor Hicks - unknown
Meteor Goblin - unknown
Meteor Manda - unknown
Meteor Dan - unknown
Other games
Edit
My Sweet Shop
Edit
This game is in beta testing where players run a candy shop. It can be found here.
Ranch Town
Edit
This game is in beta testing where players run a farm. It can be found here.
Little Rock Pool
Edit
This is a game in beta testing phase where players have a rock pool to decorate and care for their fish. It can be found here. The Little Rock Pool also has its own wiki.
Vikings, Pirates, Ninjas
Edit
This game was an application on Facebook until its was removed in late August of 2009. It was replaced with Island Paradise.
TwinSkies
Edit
This was an MMO that was canceled due to a lack of funds.
External Links
Edit
References
Edit
Ad blocker interference detected!
Wikia is a free-to-use site that makes money from advertising. We have a modified experience for viewers using ad blockers

Wikia is not accessible if you've made further modifications. Remove the custom ad blocker rule(s) and the page will load as expected.