Mantis



Level:

20

Harvest Time:

2 days

Purchase Cost:

27000

Average Harvest Value:

66

Purchase Experience:

270 xp

Harvest Experience:

2 xp

Giftable:

No

Type:

Shop Animal

Animal Limit

?
The Mantis is available for 27000 c and gives 270 xp when bought. The harvest is 1 Prey and the total harvest value is 66 c. It can be harvest every 2 days and gives 2 xp when harvested. The description reads "This colorful creature catches the fattest, juiciest grubs for your cooking pot, Dare you try one?".
Prey can be used to produce the following recipes, designs or drinks:
| | | |
| --- | --- | --- |
| Name | Type | Total amount needed to complete recipe |
| Bug Sushi | Recipe | 133 Prey |
Gallery of Pictures
Edit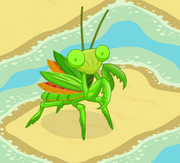 Ad blocker interference detected!
Wikia is a free-to-use site that makes money from advertising. We have a modified experience for viewers using ad blockers

Wikia is not accessible if you've made further modifications. Remove the custom ad blocker rule(s) and the page will load as expected.