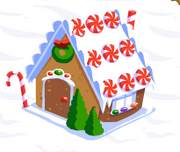 This decorative item was the day 20-24 gifts from the Advent Calendar 2009. Normally it cannot be bought from the store. This item was re-released from July 28-August 11, 2011 for the sale price of 800 c.If you logged in during day 20-24 of the event and did not receive one, contact support.
Some players got a lucky glitch and received more than one Gingerbread House.
Ad blocker interference detected!
Wikia is a free-to-use site that makes money from advertising. We have a modified experience for viewers using ad blockers

Wikia is not accessible if you've made further modifications. Remove the custom ad blocker rule(s) and the page will load as expected.