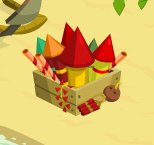 This limited edition decorative item was first made available during the New Year Celebration 2009/2010 and New Year Celebration 2010/2011 events. The Fireworks Box was made available again for Chinese New Year 2010 from February 5-18, 2010. It cost 350 MC to buy from the shop or it can be gotten by a random chance by buying the Mystery Crate.
Clicking the Fireworks Box will cause it to light a fuse. The left rocket goes up first, then the right, then one in the back, then a final one in the front, exploding red and yellow with white circles. A yellow and purple ribbon also appears briefly and some blue, yellow and pink circles.
Ad blocker interference detected!
Wikia is a free-to-use site that makes money from advertising. We have a modified experience for viewers using ad blockers

Wikia is not accessible if you've made further modifications. Remove the custom ad blocker rule(s) and the page will load as expected.