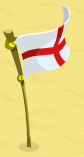 This flag is available in the shop for 275MC and gives 1xp when bought.
The two founders of Meteor Games (Adam and Donna Powell) are both British, so the appearance of the English Flag in the shop comes as no surprise.
Ad blocker interference detected!
Wikia is a free-to-use site that makes money from advertising. We have a modified experience for viewers using ad blockers

Wikia is not accessible if you've made further modifications. Remove the custom ad blocker rule(s) and the page will load as expected.