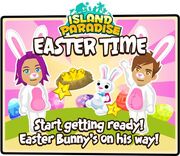 This event began on March 30th, and came with the release of a few Easter-themed items, as well as the Eggs-ellent! achievement. The Jackatrice was also accidentally released and removed on the 30th, but came back on April 1st. VPN players also received a free Jackatrice in their gift boxes as a "Thank you" for faithfully sticking with Meteor Games even when their favorite game was removed.
The Cacao Tree was introduced at the same time as the Chocolate, Chocolate Bunny and Hot Crossed Buns recipes on April 1st, although they are meant to stay.
Players found an Easter Egg Basket in their gift boxes on April 1st. Placing it on their islands and clicking it caused a menu to open. Players can see what prizes they already got by clicking on the "What's this?" button at the top of that menu, opening a second menu. Players can then ask friends to send them (via the free gift system) eggs of the color they need. The eggs will appear in the area where players accept gifts, then when accepted, they will appear inside the gift box. Clicking "Use" in the gift box will transfer the egg to the collection screen. Eggs can be sold for 5 c each, so don't make the mistake of hitting the "Sell" button because you'd have to collect them again!
Players have to find 8 eggs of each color, and there are 5 colors, making a total of 40 eggs. Once 8 of the color has been found, players can redeem them for a prize! Finding all 40 eggs will also give them an additional prize! Prizes are added to the gift box.
Finding all 40 eggs also completes the Eggs-ellent! achievement.
If you have more eggs than needed, selling them is fine since you cannot complete the hunt more than once.
Although the egg hunt was supposed to end on April 9th, it finally ended on April 15th. The Easter Egg Basket simply became a decorative item with no function.
Limited Edition Items
Edit
Bunny Nose (in accessories for 500 gold)
Bunny Suit Top (1750 gold)
Bunny Suit Bottom (1000 gold)
Bunny Ears (in hats for 750 gold)
Gallery of Pictures
Edit