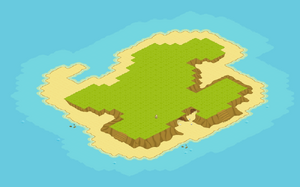 This expansion costs 1000 MC. It adds 20 to your
Animal Limit
. The description reads "Buy it and find a free pet
Cyclops
in your gifts!(332 grass plots)". It adds an additional 332 grassy plots.
Number of Expansions
Edit
Note: In addition to your main island currently you can have only eight expansions. Also in order to travel to your other islands(or your neighbor's) you must click the Ship icon. The ship icon is located at the bottom of your screen to the far right.