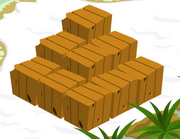 One of the cheapest decorative items available from the shop, it is ironic that its description reads "Is there anything a crate can't do?" and yet the Crate has absolutely no function other than sitting on your island as decoration. It costs 50 c to purchase and gives 1 xp when bought.
Its old shop description read "You can put stuff in it, sit on it - is there anything a crate can't do?".
Ad blocker interference detected!
Wikia is a free-to-use site that makes money from advertising. We have a modified experience for viewers using ad blockers

Wikia is not accessible if you've made further modifications. Remove the custom ad blocker rule(s) and the page will load as expected.