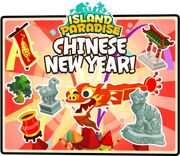 This event started on February 5, 2010. Chinese New Year is on February 14, the same day as Valentine's Day on the Gregorian calendar. (On the Lunar calendar it would be January 1st.)
Limited Edition Items
Edit
Main articles: Male Shirts, Female Shirts, Male Hats, Female Hats
The following clothes were also released.
A red garment with pink cloud swirls, a blue and purple trim with a purple belt.
A red headdress with pink cloud swirls and a blue and purple strip across it.
A rice hat (also known as the conical straw hat, sedge hat, paddy hat or coolie hat).
There was also the release of the Chinese Juniper Tree that could only be sent by gifts.
Ad blocker interference detected!
Wikia is a free-to-use site that makes money from advertising. We have a modified experience for viewers using ad blockers

Wikia is not accessible if you've made further modifications. Remove the custom ad blocker rule(s) and the page will load as expected.