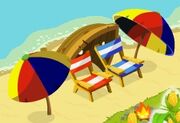 A brightly colored umbrella, this piece of decoration costs 2500c to purchase and gives 25xp when bought. Its description reads "Keeps the sun away."
An update on December 22, 2009 changed the graphics from an upright Beach Parasol to one bent over.
Ad blocker interference detected!
Wikia is a free-to-use site that makes money from advertising. We have a modified experience for viewers using ad blockers

Wikia is not accessible if you've made further modifications. Remove the custom ad blocker rule(s) and the page will load as expected.