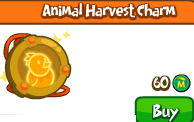 This one time use item can be bought for 60 MC. The description reads "Animals ready to harvest? This charm will harvest them all in one fell swoop! Note: One time use!"
To use one, you have to first purchase one. You can find these under the "Animal" tab in the Shop, not the "Boosts" tab. A prompt will appear and ask if you want to purchase it for 60MC. If you click yes, the item will then appear in the storage tab of your inventory and you use it from there. If you click no, you can go back to browsing items in the shop.
From the inventory, click to use it, another prompt will ask if you are sure you want to. Click yes to use, click no and leave it for another time. After clicking yes, you will get all the normal amounts of experience and coins that you normally would get if you harvested animals manually, although the pop-up will only tell you that you got the coins. You will still be able to get the chances for a double harvest from animals if you have a Barn.