| | |
| --- | --- |
| | Adding Box no longer functions. |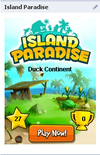 Players can add the Island Paradise box to their Facebook profile to show off to their friends!
Adding Box
Edit
Adding the box with the following steps will put it on the boxes tab of your profile, where it is not very visible, but it is there.
Go to Settings on the blue Facebook toolbar, but do not click it. Let the menu open.
Click Applications Settings.
Find Island Paradise on the list.
Click Edit Settings. A popup should appear.
There will be three tabs. Under the Profile tab, click add. The box will now be visible on your boxes tab on your profile.
You can move the box around on your boxes tab by clicking and dragging the top of it.
Moving to Profile
Edit
You can move the Island Paradise box to your profile page.
Go to your profile.
Click the Boxes tab.
Find the Island Paradise box. It defaults to a rectangular box that is longer horizontally than it is vertically.
Click the little editing icon on the top right corner of the box.
Click 'Move to Wall tab'. You should be redirected to your wall and you can see the box.
You can move the box up or down on your wall tab by clicking and dragging the top of it.
Ad blocker interference detected!
Wikia is a free-to-use site that makes money from advertising. We have a modified experience for viewers using ad blockers

Wikia is not accessible if you've made further modifications. Remove the custom ad blocker rule(s) and the page will load as expected.